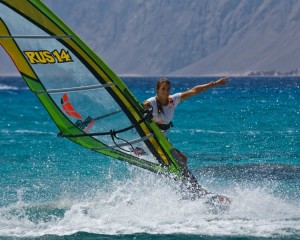 Olya Raskina nos envía una nota de prensa y el programa del «Windsurf Beauties camp» – un camp de windsurf solo para chicas patrocinado por JP-Australia y NeilPryde International. Tendrá lugar en Dahab, Egipto, del 28 de febrero al 14 de marzo.
The Windsurf Beauties camp supported by JP-Australia, NeilPryde and coached by the best Russian female windsurfers Olya Raskina RUS14 and Sveta Martynova is taking place in Dahab, Egypt from 28th of February until 14th of March. After the first very successful camp in November 2009, which brought together 30 windsurfing ladies from Russia, this event is going to unite active and sportive women from all over the world.
You can try out windsurfing for the first time and learn quickly. If you are already sailing, you can bring your skills to a new level with the professional windsurfing instructors Olya Raskina and Sveta Martynova. The Windsurf Beauties camp welcomes women of any age and windsurfing skills: from beginner to advanced sailor.
The camp usually lasts for 1 week:
* from 28th of February until 7th of March and
* from 7th of March until 14th of March
of course, girls can also stay for 2 weeks and move to the group of higher level in the 2nd week.
The program consists of windsurfing courses every day, including theory on the beach and practice on the water, video and photo sessions, correction of mistakes and video analysis. Besides windsurfing, girls will visit the touristic center of Dahab, enjoy numerous parties, practice yoga, watch the sunset on the trip to the mountains and do many other exciting things. Every girl will get a DVD with all photos in high quality, special movie of the camp and different prices from JP-Australia and the «Five Square windsurf center».
The costs for a 1 week camp are 300 US dollars, 2 weeks – 500 US dollars. The rental of the equipment has to be paid separately. For rental prices check http://eng.go-dahab.ru/index.php?chapter=windsurfing&topic=prices. Every participator of the camp and her partner will have a 10% discount on the rental.
According to the organizers of the Windsurf Beauties camp, windsurfing is an ideal sport for a woman. It combines fun and exercise that make a woman healthy, fit and happy.
Olya Raskina: Russian female Windsurfing Champion in 2008 and 2009. 8th place at PWA in freestyle in 2008 and 2009. Professional windsurfing instructor of «Five Squares windsurf school». JP-Australia, NeilPryde and MFC rider. Specialized in linguistics and interpreting.
"The first Windsurf Beauties camp hosted 30 girls from different parts of Russia and Ukraine. It was a new exciting and beautiful experience for all: the Windsurfing Beauties and us, their coaches. We were very happy to teach our girls and spend such a great time together. Considering our latest experience, the next camp will be even more fun, active and unforgettable."
Sveta Martynova: Professional windsurfing instructor of «Five Squares windsurf school». 2 place at Russian Windsurfing championship in 2008 and 2009. 2nd place at Dahab Slalom Week 2009. Professional sailor in all major disciplines – freestyle, slalom and wave.
"Everything that we know about windsurfing, we'll share with our girls and make it very easy to understand. I really enjoyed our first camp of "Windsurf Beauties". I think that the girls sailing together felt really relaxed, focused and assertive. At the end, all of them improved their skills a lot!"
You can see the movie from the first Windsurf Beauties camp here.
Our team:
Olya Raskina, Sveta Martynova, Elena Chaikova (windsurf instructors)
Svetoslav Bolgarchuk (cameraman, film maker and producer)
Olga Novikova (professional photographer)
Sveta Morozova (designer of boq'o'boq studio)
Olga Bobrovskaya (PR manager).
Info partners: www.wind.ru, www.go-dahab.ru, www.sport-express.ru, www.vtsport.ru, www.gfhome.ru, www.dahab.me, www.sportbox.ru, www.luxury-info.ru, www.onwave.ru, www.dahab.su, www.surfpeople.ru, www.street-style.ru, www.lineupmag.ru, www.yoltica.com, www.nedoma.ru, www.raceyou.ru, "Vertical World" magazine.
Windsurf school «Five squares» www.eng.go-dahab.ru
For all information, contact Olya Raskina here:windsurf.beauties@gmail.com. If you are willing to join the camp, please send your request to the same email.
Programa